CyBroWebScada
PROFESSIONAL WEB SUPERVISORY & MONITORING SYSTEM
CyBroWebScada is web software which provides monitoring and changing CyBro-2 variables in real time, logging variables in database and remote programming.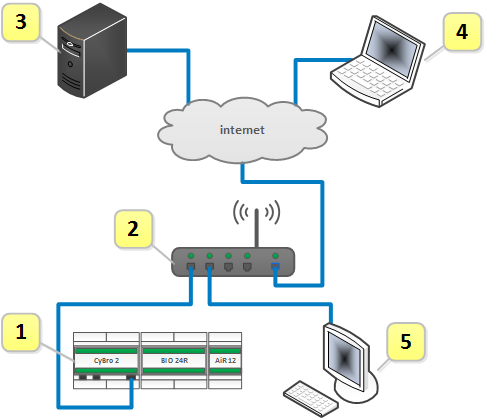 CyBro-2 controller with expansion modules
Home network router
CyBroWebScada server
Remote WEB browser
Local WEB browser
Server structure

Features
On-line data display and write
Data logging to MySql database
Displaying logged data in time-plots
Alarms and Events:

Simple definition on server
Logged in database
E-mail notifications

Communication initialized from CyBro (no need to reconfigure local router)
Relay server allows remote access for upgrades and programming
Hardware requirements
CyBroWebScada can be installed on one of following platforms:
Raspbery Pi for small projects (up to 5 CyBro-2 controllers).
Desktop PC server for larger projects (practically unlimited CyBro-2 controllers).
Hosting service which includes: server, preinstalled web scada and system maintenance (OS, Apache, MySQL, Django, Web Scada). Scada application (design, create, maintenance, backup) not included.